---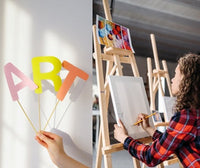 Art for Relaxation
Farnborough Library
Tuesday 9th, 16th, 23rd, 30th January and 6th February 2024
10.00am to 12.00pm

Art is a great way to relax, unwind and develop your creative skills while meeting and engaging with likeminded people. Each week you will explore a simple and fun art activity and over the duration of the course, create a portfolio of work that demonstrates your learning experiences. You will then be able to use art to continue your personal creative wellbeing journey.
Describe and demonstrate mark making techniques used in drawing
Identify the best methods to create tone in charcoal
Create one piece of work using sgraffito techniques
Use a variety of art materials to produce at least one piece of work per week
Who is this course for: This course is aimed at anyone who would like to experience art as a way of relaxing and socialising with other likeminded individuals. We will create artwork through a range of weekly practical, fun and creative activities, that will also help to develop your confidence in creating art while being relaxing. This course is aimed at beginners looking for a gentle and supportive class, and is also suitable for intermediate learners looking to relax with art
Previous Knowledge or Experience: None required
How will I learn: Each week you will develop your work through learning new art techniques in different media
How will I be assessed: observation and work produced
What shall I bring: Materials, tools and equipment will be provided for the materials fee of £12.00 (please bring on week 1).  However, feel free to bring your own to use in addition, if you wish (drawing pencil set, willow charcoal, coloured or watercolour pencils, watercolours, oil pastels)
Next Steps: Carry on with further Art for Relaxation courses, or join Craft Club at Farnborough Library
If a learner decides to withdraw from a course before a course begins, the following charges should be made:
5 working days or more before course starts a full refund will be issued
No refunds will normally be made if a learner withdraws from a course less than 4 working days before the start of the course
Attendance is expected at each session to ensure that you get the most out of your learning experience and to minimise disruption for other learners. Please advise the venue/tutor of any absence you may have.

You will be contacted by a member of the learning in Libraries team prior to the course. We are unable to process your booking without a phone number.
Please note that due to circumstances outside of our control we may need to move this course online. Please give consent to your image appearing on our virtual learning environment Zoom.
If this event is sold out please contact learningInLibraries@hants.gov.uk so that we can inform you of any future courses.
To join our mailing list please select yes. You can unsubscribe at any time by emailing learninginlibraries@hants.gov.uk