---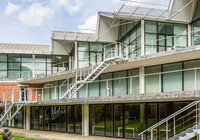 Behind the scenes at the archives
Guided tour
Monday 11th December 2023
2.00pm to 3.30pm
Hampshire Record Office, Winchester
Go behind the scenes at the archives to see some of the amazing records we hold. You'll be guided around the building by a professional archivist who will explain the unseen work which is carried out to preserve, and make accessible, Hampshire's heritage.
On the tour you will be able to handle a wide range of documents from our collections, visit our conservation department to find out what happens to documents which are damaged by mould, water and vermin. We'll explain the delicate work and processes which are carried out to repair damaged documents and bring them back to life. After all that you can sit back and relax in our cinema and watch a short archive filmshow.
Please bring proof of purchase (your order notification) on the day to attend the event.
Price: £10.00 per person