---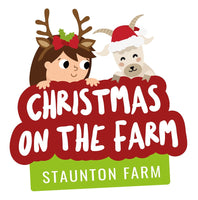 Christmas on the Farm at Staunton Farm
Saturday 23rd December 2023
9.00am, 9.30am, 10.00am, 11.00am, 11.30am, 1.00pm, 1.30pm or 2.00pm
Come and join us for some festive fun at the farm!
Head to the Farm Shop and collect your wristband and letter from Father Christmas. Head through the Visitor Centre showing your wristbands and either explore the farm as you wish or when it is your booked time slot, head to the Farm Shop where an activity leader will guide you to your first activity which will be the Christmas craft. You will then head to our tearooms where you will meet one of Father Christmas' elves to help you decorate your biscuit before heading down to the Christmas grotto to see Father Christmas himself.

Additional Information:
All children must be accompanied by an adult. A ticket must be purchased online for all children wishing to join in the activities and to meet Father Christmas. Please then purchase all other tickets online for everybody else attending, i.e., adult, children, concessions and under 3s and show your e-receipt for this on the day at the Farm Shop to receive your wristbands.
Member bookings must also be done online and please state your membership number in the notes section when booking.
You are responsible for making your way to the designated meeting point at the start of your session time.
Ts and Cs
Please Park in the main car park. You will receive a code from the Visitor Centre that permits free parking, simply enter the code and your registration into the pay machine when leaving the farm

- You are welcome to visit the farm for the whole day of your Father Christmas booking. We are open 10:00-16:00. You will need to purchase the event ticket for any children attending and additional general standard admission tickets for everybody else attending on the online shop
Please check in with our reception team and the FARM SHOP. You will need to bring your e-receipt with you (this can be on a device). The reception team will give you your wristbands and letter from Father Christmas and confirm the location of your meeting with the activity leader at your booked timeslot
The activities will take place around Staunton Farm so please come dressed appropriately for the weather. Warm clothes, waterproofs and sensible shoes are advisable
Please note this ticket is non-refundable and non-transferable. This ticket is not for resale
All information held by Staunton will be stored in accordance with the Data Protection Act and will not be shared with any third parties
Price: £19.95 per pack