---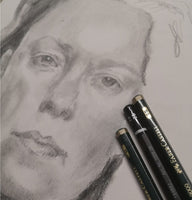 Drawing Portraits
Yateley Library
Saturday 13th, 20th, 27th January, 3rd, and 10th February 2024
10.00am to 12.00pm
Learn and practice how to draw the human face using correct proportions and learn to achieve a better likeness.
The course provides a supportive environment for to develop your drawing using graphite pencils and give you the confidence to develop your own work.

Recognise facial proportions and use them to construct a portrait drawing of a human face
Use tone effectively to show three-dimensionality in a portrait
Identify how a mindful and focused task like portrait drawing reduces stress and promotes a sense of achievement
Use the knowledge you gained on drawing faces to establish regular sketchbook drawing as a mindful and relaxing activity
Who is this course for: People who would love to learn how to draw portraits step-by-step in a supportive and encouraging environment
Previous knowledge or experience: A little experience of drawing using graphite pencils is useful, but beginners are very welcome as we will start from the beginning and build knowledge
How will I learn: You will learn from watching the tutor demonstrate techniques then having a go yourself
How will I be assessed: You will receive encouragement and constructive feedback throughout the sessions
What shall I bring: Materials list provided a week prior the course. Please contact the tutor if you require the list sooner (kristin.rawcliffe@gmail.com)
Next steps: Portraits for Improvers
If a learner decides to withdraw from a course before a course begins, the following charges should be made:
5 working days or more before course starts a full refund will be issued
No refunds will normally be made if a learner withdraws from a course less than 4 working days before the start of the course
Attendance is expected at each session to ensure that you get the most out of your learning experience and to minimise disruption for other learners. Please advise the venue/tutor of any absence you may have.

You will be contacted by a member of the learning in Libraries team prior to the course. We are unable to process your booking without a phone number.
Please note that due to circumstances outside of our control we may need to move this course online. Please give consent to your image appearing on our virtual learning environment Zoom.
If this event is sold out please contact learningInLibraries@hants.gov.uk so that we can inform you of any future courses.
To join our mailing list please select yes. You can unsubscribe at any time by emailing learninginlibraries@hants.gov.uk