---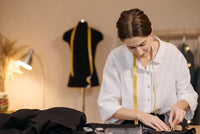 Dressmaking with Lareen
Fleet Library
Thursday 11th, 18th, 25th January, 1st and 8th February 2024
12.30pm to 3.00pm

Working at your own pace this is an opportunity to learn how to use a pattern to produce a garment to fit. Learners will work with different levels and techniques of sewing according to their ability.

You will learn the sewing jargon and techniques required for your individual project whilst being in a friendly, classroom setting, with likeminded people.
Discuss sewing terminology
Demonstrate the ability to use a sewing machine and identify stitches/functions
Practice sewing skills and techniques
Identify skills required for sewing an individual project
About the Course: This course is aimed at mixed ability dressmaking although it is expected you can use the basic functions of a sewing machine. You will learn how to read patterns, make, and fit a toile and all about the different techniques required for your chosen garment construction. This course is practical and requires a degree of manual dexterity
Previous Knowledge or Experience: Anyone with an interest in sewing, complete beginners and more experienced sewers are all welcome!
How will I learn: Discussion, demonstration and independent sewing in a mixed ability class. The Tutor provides teaching tailored to your individual project and this will enable you to produce a sewn item, this may be a toile or a finished garment depending on your ability. Please note, you may need to use your personal time to complete the item you are making because of the time constraints. During the length of the course, you will have contact with the Tutor via a Facebook group or email for any questions/concerns
How will I be assessed: Q&A, sewn samples, toile and/or garment sewn
What shall I bring: Sewing machine in working order with relevant presser feet and bobbins; sewing pattern of your choice suitable for your experience; polyester thread for your project; spare needles for sewing machine plus hand sewing needles; pins; fabric scissors; paper scissors; tape measure; Sellotape; pens/pencils; ruler; paper/pad; tailors chalk; old sheet or cheap fabric for toile; fabric required to make your garment (this can be discussed during first lesson)
Next Steps: Further Sewing Courses
If a learner decides to withdraw from a course before a course begins, the following charges should be made:
5 working days or more before course starts a full refund will be issued
No refunds will normally be made if a learner withdraws from a course less than 4 working days before the start of the course
Attendance is expected at each session to ensure that you get the most out of your learning experience and to minimise disruption for other learners. Please advise the venue/tutor of any absence you may have.

You will be contacted by a member of the learning in Libraries team prior to the course. We are unable to process your booking without a phone number.

Please note that due to circumstances outside of our control we may need to move this course online. Please give consent to your image appearing on our virtual learning environment Zoom.

If this event is sold out please contact learningInLibraries@hants.gov.uk so that we can inform you of any future courses.

To join our mailing list please select yes. You can unsubscribe at any time by emailing learninginlibraries@hants.gov.uk