---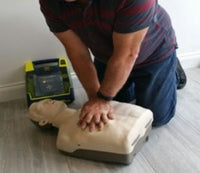 Emergency First Aid
Alton Library
Saturday 20th January 2024
9.45am to 4.45pm
Free tuition, Certification £25 to be paid directly to the tutor
The course will equip the first aider with skills to be able to confidently undertake emergency first aid if someone becomes ill or injured at home/community setting. The course consists of 8 hours of instructor led tuition with the emphasis on practical application of first aid skills. This is a practical course which is interactive and fun.
A fully accredited OFQUAL certificate and course book can be issued by the tutor on the day of the course if required. The fee of £25 is payable directly to the tutor.
Please note this course is for those with personal caring responsibilities and not for businesses or those who need one for their workplace. We reserve the right to refuse a booking if we feel it is for business purposes.
To identify and explain how to carry out at least 3 first aid procedures in order to preserve a life, prevent the situation worsening and promote recovery
To be able to perform and demonstrate a primary survey using DRSABCD when attending to a casualty
To demonstrate and perform safe and effective bleeding control when attending to a bleeding casualty
To explain how to prioritise treatment whilst minimizing risks to yourself and others
Who is this course for: This is a course aimed for candidates with little or no first aid knowledge. The course is designed to give the learner skills to be able to respond to everyday first aid emergencies, confidently and effectively.  It is a practical course, so floor work for CPR/Recovery position is needed
Previous knowledge or experience: This practical based course is suitable for both complete novices as well as those wishing to refresh their skills
How will I learn: Tutor demonstration, individual and whole group practical activities
How will I be assessed: Tutor observation
Next steps: Paediatric First Aid courses
This course is aimed at Hampshire residents aged 19+ Attendance is expected at each session to ensure that you get the most out of your learning experience and to minimise disruption for other learners. Please advise the venue/tutor of any absence you may have.

Attendance is expected at each session to ensure that you get the most out of your learning experience and to minimise disruption for other learners. Please advise the venue/tutor of any absence you may have.

You will be contacted by a member of the learning in Libraries team prior to the course. We are unable to process your booking without a phone number.

Please note that due to circumstances outside of our control we may need to move this course online. Please give consent to your image appearing on our virtual learning environment Zoom.

If this event is sold out please contact learningInLibraries@hants.gov.uk so that we can inform you of any future courses.

To join our mailing list please select yes. You can unsubscribe at any time by emailing learninginlibraries@hants.gov.uk