---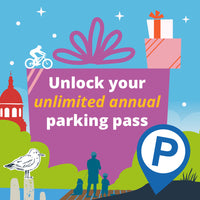 Gift - Country Park Annual Parking Passes (Blue Badge options)
A Blue Badge annual parking pass for our country parks is a great gift for family and friends that hold a valid Blue Badge. It entitles the pass holder to unlimited parking at one of our country parks for a year - Lepe Country Park, Queen Elizabeth Country Park (including Butser Hill), River Hamble Country Park, Royal Victoria Country Park and Staunton Country Park.
You can also purchase a combined pass for all five country parks. This is a great option for frequent visitors to two or more of our parks.
Please select the park you would like to purchase a pass for or select 'Country Park – Blue Badge Annual Parking Pass' for the combined pass.
Please do not purchase this pass as a gift unless you are sure the gift recipient holds a valid Blue Badge. To validate the pass the gift recipient will be required to provide the Blue Badge number and expiry date. Gift annual parking passes for those who do not hold a Blue Badge can be purchased here.
After purchasing the pass, you will receive an email within two working days with a gift certificate to download and pass on to the gift recipient to allow them to activate their pass.
Terms and conditions
Two vehicles can be included in the pass
Only one vehicle can park at a time, any second vehicle will need to pay normal parking charges
An ANPR system is in operation at all country parks, there is no need to display anything in the car
The pass holder will be required to have their Blue Badge with them when visiting the parks. They may be asked to show it from time to time so we can check its validity
Parking passes are non-transferable or refundable
The parking pass will not be activated until we have received details from the gift recipient