---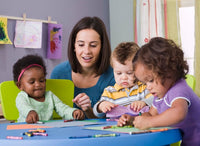 How Children Learn to Talk
Online course
Wednesday 17th, 24th, 31st January, 7th and 21st February 2024
Amended Dates
7.00pm to 8.30pm

This is a free online course using Zoom. Participants will be required to use Zoom.
To develop your understanding of how babies learn to talk
Describe the stages of spoken language development
List and define grammar terms relevant to a child's development
List and define vocabulary terms relevant to a child's development
List and define phonology terms relevant to a child's development
Identify a range of 'virtuous errors' children commonly make
About the Course: Get an overview of how babies and toddlers learn to talk including the stages they develop through and all the normal, common errors that make them say the funniest things! The course will take place online on Zoom with our friendly tutor.
Who is this course for: Perfect for parents, those currently working with young children or those who are hoping to in the future.
Previous Knowledge or Experience: This course is suitable for beginners, no previous knowledge required
How will I learn: Through a variety of group work, individual tasks, videos, discussions and other interactive exercises.
How will I be assessed: Informal assessment will be carried out through observation of interactive activities, contribution during the sessions and completion of tasks. The tutor will give you regular feedback to help you achieve your goals.
What shall I bring: please bring a note book and pen.
Next Steps: Preparing your Child for School, How Children learn to Read and Write, onsite family/parenting courses at your local library

Attendance is expected at each session to ensure that you get the most out of your learning experience and to minimise disruption for other learners. Please advise the venue/tutor of any absence you may have.

Participants will be required to use Zoom. No account is required
Not sure how to use Zoom? Check out these helpful videos: https://support.zoom.us/hc/en-us/articles/206175806

This course is aimed at Hampshire residents aged 19+ Attendance is expected at each session to ensure that you get the most out of your learning experience and to minimise disruption for other learners. Please advise the venue/tutor of any absence you may have.

You will be contacted by a member of the learning in Libraries team prior to the course. We are unable to process your booking without a phone number.

If this event is sold out please contact learningInLibraries@hants.gov.uk so that we can inform you of any future courses.

Your order will be void if you do not give consent to your image appearing on our virtual learning environment Zoom.

Privacy Notice

The data captured on this form including 'Date of Birth' and 'Title' are required by the organisation funding the course and will also be used for meeting your learner needs. Data will be shared with Education and Skills Funding Agency (ESFA) for this purpose.

The Department for Education (DfE) is the data controller for personal data processed by the ESFA. Your personal information is used by the DfE to exercise its functions and to meet its statutory responsibilities, including under the Apprenticeships, Skills, Children and Learning Act 2009 and to create and maintain a unique learner number (ULN) and a personal learning record (PLR). Your information will be held for 7 years as it is linked to a funding application. You have some legal rights in respect of the personal information we collect from you. Please see our website Data Protection page for further details:

www.hants.gov.uk/dataprotection or

https://www.gov.uk/government/publications/esfa-privacy-notice

To join our mailing list please select yes. You can unsubscribe at any time by emailing learninginlibraries@hants.gov.uk