---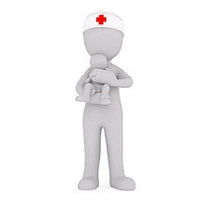 Introduction to Paediatric First Aid

Online course
Tuesday 16th, 23rd, 30th January and 6th February 2024
6.45pm to 9.15pm

This is a free online course using Zoom.

This is a course aimed at people with little or no first aid knowledge regarding children and babies. It is a great introduction to Paediatric first aid and this will give the learner skills to be able to respond to everyday first aid emergencies, in the home and in the community.
Describe how to safely and confidently respond to an emergency, and contact the relevant emergency service with effective communication – especially when communicating with children
Describe why effective airway management, for a child and for an infant, is important
Describe how to place an unconscious child or infant into the recovery position
Identify a non-breathing child or infant – learn how to complete CPR effectively
Describe and explain the effectiveness of using an Automated External Defibrillator (AED)
Describe a child or infant with various ailments including a burns/scalds, asthma attacks and anaphylactic shock, as well as how to treatment them
Identify the difference between gaging and choking and the difference treatments options for age groups
Describe how to treat a child or infant having an epileptic seizure
Identify signs and symptoms of flu, colds, high temperatures/low temperatures and febrile seizures
List three signs and symptoms of meningitis & sepsis in children and infants
Who is this course for: This course will enable candidates to be able to assist a child or baby in an emergency. Unfortunately, children are unable to attend. 
Previous Knowledge or Experience: No previous knowledge is required – come and learn some first aid skills, meet new people and have a lot of fun along the way
How will I learn: On-line, individual activities, discussion
How will I be assessed: Tutor demonstration/support/feedback and peer support
Next Steps: There is progression onto accredited courses in Emergency Paediatric First Aid (1 x day course) which are level 3 qualifications that qualify you in Emergency Paediatric first aid for three years from completion

This course is for parents/carers only, please do not bring babies/children along.
Participants will be required to use Zoom. No account is required
Not sure how to use Zoom? Check out these helpful videos: https://support.zoom.us/hc/en-us/articles/206175806
This course is aimed at Hampshire residents aged 19+ Attendance is expected at each session to ensure that you get the most out of your learning experience and to minimise disruption for other learners. Please advise the venue/tutor of any absence you may have.
You will be contacted by a member of the learning in Libraries team prior to the course. We are unable to process your booking without a phone number.
If this event is sold out please contact learningInLibraries@hants.gov.uk so that we can inform you of any future courses.
Your order will be void if you do not give consent to your image appearing on our virtual learning environment Zoom.
Privacy Notice
The data captured on this form including 'Date of Birth' and 'Title' are required by the organisation funding the course and will also be used for meeting your learner needs.
Data will be shared with Education and Skills Funding Agency (ESFA) for this purpose.
The Department for Education (DfE) is the data controller for personal data processed by the ESFA. Your personal information is used by the DfE to exercise its functions and to meet its statutory responsibilities, including under the Apprenticeships, Skills, Children and Learning Act 2009 and to create and maintain a unique learner number (ULN) and a personal learning record (PLR). Your information will be held for 7 years as it is linked to a funding application. You have some legal rights in respect of the personal information we collect from you. Please see our website Data Protection page for further details:
www.hants.gov.uk/dataprotection or
https://www.gov.uk/government/publications/esfa-privacy-notice

To join our mailing list please select yes. You can unsubscribe at any time by emailing learninginlibraries@hants.gov.uk