---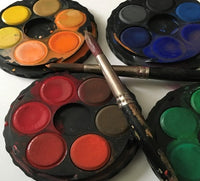 Introduction to Watercolour
Lee Hub - Independent Community Library
Friday 8th, 15th and 22nd December 2023
1.00pm to 4.00pm
To enable learners to feel more confident in using watercolours in a loose and expressive way.
Understand that there are different ways to use watercolour paints
Use different techniques to create different effects
Use multiple layers of paint to build up your picture
Create at least two pieces of work using watercolours

About the course:
Approachable sessions and activities to help you build your confidence and develop your skills in using watercolours expressively. We will be looking at how to mix paint on the paper and will look at applying washes and paint to wet and dry paper.  We will be using salt, clingfilm, water, watercolour pencils and other objects to create effects and develop our skills, as well as building up layers of paint in our work. We will be using photos and images as inspiration during the course.  Please see the details below for what to bring with you
Who is this course for: Ideal for those wanting to gain confidence
Previous knowledge or experience:  A basic understanding of how to draw (i.e. shading, texture, highlights and shadows) is helpful but not essential
What shall I bring: A range of watercolour paints (pan or tubes are fine), A drawing pencil (i.e. 2B), plenty of cartridge paper (preferably A4) for practicing and activities, heavier watercolour paper (A4) for your main pictures, a water pot, cloth or kitchen roll, brushes and palette, a small container of Salt, a coin i.e. 2p coin, clingfilm if you already have some at home, small piece of thick card, please bring a colourful photo/image to the first class
Please note that some of the techniques can get a bit messy.  Please wear clothes you don't mind getting paint on.  You may also find an apron useful.
Next steps: Attendance at (free) art clubs at your local library, more paid for art courses through Learning in Libraries or at your local College
If a learner decides to withdraw from a course before a course begins, the following charges should be made:
5 working days or more before course starts a full refund will be issued
No refunds will normally be made if a learner withdraws from a course less than 4 working days before the start of the course
Attendance is expected at each session to ensure that you get the most out of your learning experience and to minimise disruption for other learners. Please advise the venue/tutor of any absence you may have.

You will be contacted by a member of the learning in Libraries team prior to the course. We are unable to process your booking without a phone number.
Please note that due to circumstances outside of our control we may need to move this course online. Please give consent to your image appearing on our virtual learning environment Zoom.
If this event is sold out please contact learningInLibraries@hants.gov.uk so that we can inform you of any future courses.
To join our mailing list please select yes. You can unsubscribe at any time by emailing learninginlibraries@hants.gov.uk