---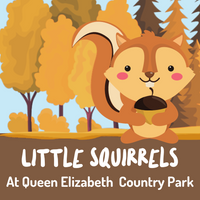 Little Squirrels - Autumn Two Term
Queen Elizabeth Country Park
Tuesday 5th December 2023
10.30am to 12.00pm
Little Squirrels is a hands-on nature group for children aged 2 and a half years to four years during school term time on a weekly basis. Sessions include activities and resources appropriate to the weather and the seasons. Each week has a different theme, and we are based outdoors for the whole session. Our sessions consist of activities, woodland craft, stories, and outdoor play.
Our nature group is intended to promote a child's confidence and independence within the outdoors through their own discovery and connection of the space. We work in partnership with the parent carer and encourage their involvement in sharing their child's nature experiences together. We meet at the end of bottom field unless specified by the education leader please park at Gravel Hill car park for ease, if you need directions to Gravel Hill car park please head to the Visitor Centre first for advice.
Things you need to know

• Booking is essential
• We run on Tuesday's only 10.30am - 12pm (Term Time Only)
• Adult supervision is required all times
• Car parking charges apply.
• There are different options when paying for parking you can either pay as you go, or may wish to invest in an annual membership which you can buy online. Alternatively to save ease when visiting Little Squirrels you can opt into the pre-booking service which you can add to your Little Squirrels booking. This will equate to the remaining sessions of the term e.g. £14 worth of parking are equal to 4 x 2 hour visits for one vehicle once a week. If you sign up for pre-booking please make sure you input the correct registration number or inform the education leader of any changes. Pre-booked parking will not be refunded on missed visits.
• Suitable for children aged 2½ to 4 years
• Sessions are non refundable/transferable
• Our sessions are booked in 4 or 6 week blocks
• Adult supervision is required all times
• Children and adult carers should dress for the weather conditions and be happy to get mucky and wet! A change of clothing is advisable and suitable footwear.
• Babies are welcome to come to the session however we advise sturdy pushchairs that can cope with uneven terrain and plenty of layers.
For more information regarding our Little Squirrel workshop please contact us via email at qecp.enquiries@hants.gov.uk or speak to a member of our education team on 02392 595040.
The personal data you provide will be treated in accordance with Data Protection Legislation. Your data will only be used to contact you with further information about the activity and for feedback. It will not be shared with third parties. Your data will be retained for a maximum period of 6 months from the date of the event. The legal basis for our use of this information is for consent.
You have some legal rights in respect of the personal information we collect from you. Please see our website Data Protection page for further details (www.hants.gov.uk/dataprotection). You can contact the County Council's Data Protection Officer at data.protection@hants.gov.uk. If you have a concern about the way we are collecting or using your personal data, you should raise your concern with us in the first instance or directly to the Information Commissioner's Office at https://ico.org.uk/concerns/.