---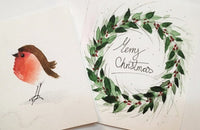 Pen & Watercolour Robins & Wreaths
Stubbington Library
Tuesday 12th December 2023
10.00am to 1.00pm
An introduction to using pen and watercolours with a Christmas theme in a loose style.
Apply at least three Watercolour techniques
Mix at least three different greens and values using two primary colours
Create at least one watercolor painted Christmas card/painting
About this course: This is a workshop which will look at different techniques to create a Christmas themed picture/card using pen and watercolour media. Plenty of practice before creating your own design
Who is the course for: this course is for improvers.  Not suitable for beginners
Previous knowledge/experience required: Previous knowledge of watercolour painting is essential. What is also required is lots of enthusiasm, willingness to learn and a desire to have fun. This is a very loose and graphic style of painting
How will I learn: This is a relaxing and friendly workshop with step-by-step demonstrations, followed by practical painting activities. The start will focus on lots of practice before developing ideas, into, either a robin and wreath-based Christmas card/picture design
How will I be assessed: Through observation, questioning, discussion and peer/self-evaluation.
What shall I bring:
Watercolour paper (Cold or Hot Pressed) 140lb minimum in either a A4 or A5 pad or block or loose sheets.
Sketch pad (doesn't have to be expensive) or loose paper.
HB Pencil and rubber.
Waterproof fine liner pens (like the brand Uni pin) at least 0.1, 0.5 and 0.8 sizes or a black biro.
Flat and round paint brushes small and medium (brushes come in number size but vary so much between brands, hence a rough guide).
Water pots x 2.
Watercolour pan set or tubes at least Ultramarine blue, Crimson red, Cadmium red, Lemon yellow and a Brown like Burnt umber.
Kitchen roll.
Apron
Next Steps: Other art and craft workshops or courses
If a learner decides to withdraw from a course before a course begins, the following charges should be made:
5 working days or more before course starts a full refund will be issued
No refunds will normally be made if a learner withdraws from a course less than 4 working days before the start of the course
Attendance is expected at each session to ensure that you get the most out of your learning experience and to minimise disruption for other learners. Please advise the venue/tutor of any absence you may have.

You will be contacted by a member of the learning in Libraries team prior to the course. We are unable to process your booking without a phone number.

Please note that due to circumstances outside of our control we may need to move this course online. Please give consent to your image appearing on our virtual learning environment Zoom.

If this event is sold out please contact learningInLibraries@hants.gov.uk so that we can inform you of any future courses.

To join our mailing list please select yes. You can unsubscribe at any time by emailing learninginlibraries@hants.gov.uk