---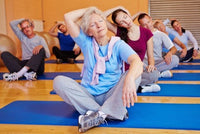 Pilates for Wellbeing
Fleet Library
Tuesday 9th, 16th, 23rd, 30th January and 6th February 2024
11.15am to 12.15pm
To restore good alignment & posture, develop core strength & stability, improve flexibility, balance & increase mind / body awareness through performing a series of exercises both standing & on the mat.
Describe the benefits of Pilates & their impact on wellbeing
Demonstrate how to activate your core muscles using the hipster belt & internal lift methods
Demonstrate lateral breathing whilst performing the exercises
Apply the main principles of Pilates alignment, breathing & centring to your practice
Perform the exercises using small equipment like resistance bands & Pilates balls to enhance your practice & develop muscle strength
About the course: This is an adult learning session for all. Pilates can be modified to provide a gentler strength training programme or a more challenging workout it is suitable for almost everyone whether you are new to exercise or exercise more regularly. You will start by learning the basic moves & then as the weeks progress you will learn how to make these more challenging to aid your progression. You will progress at your own pace & the instructor will encourage you to increase the difficulty of the exercises as you develop your own core strength & stability
Who is this course for: As most of the exercises will be performed on the mat you will be exercising whilst lying on your front, back & side so you should be comfortable with this. All levels of ability are welcome that are comfortable with floor work
Previous knowledge or experience: No previous experience required
How will I learn: The tutor will demonstrate how to set up your alignment, focus your breathing & engage your core muscles prior to executing each exercise. The class is hands on & it may be necessary for the tutor to physically position you correctly to ensure you are working the correct muscles & gain the most benefit from the exercises. However, please say if you are not comfortable with this!  Emphasis will be placed on performing the exercises with control & precision
How will I be assessed: You will be assessed by tutor observation & feedback on performance of exercises
What shall I bring: Wear comfortable clothing to move in & socks. Please also bring a mat & a drink
Next steps: Other exercise programmes including Stay Active for Wellbeing
If a learner decides to withdraw from a course before a course begins, the following charges should be made:
5 working days or more before course starts a full refund will be issued
No refunds will normally be made if a learner withdraws from a course less than 4 working days before the start of the course
Attendance is expected at each session to ensure that you get the most out of your learning experience and to minimise disruption for other learners. Please advise the venue/tutor of any absence you may have.
You will be contacted by a member of the learning in Libraries team prior to the course. We are unable to process your booking without a phone number.
Please note that due to circumstances outside of our control we may need to move this course online. Please give consent to your image appearing on our virtual learning environment Zoom.
If this event is sold out please contact learningInLibraries@hants.gov.uk so that we can inform you of any future courses.
To join our mailing list please select yes. You can unsubscribe at any time by emailing learninginlibraries@hants.gov.uk