---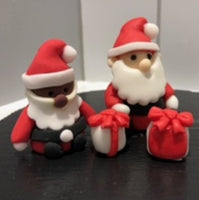 Santa Sugarcraft Workshop
Gosport Discovery Centre
Saturday 9th December 2023
10.00am to 12.00pm
A fun and friendly Christmas themed workshop making cake toppers, where you can discover and build on your Sugarcraft skills in an engaging and supportive environment. You will be assessed through a mixture of practice, demonstration and shared discussions.
Use a variety of tools to achieve different outcomes
Create at least 2 basic models from sugar paste
About the course: Come and join us for some festive fun in a relaxed and encouraging workshop
Who is the course for: Individuals who would like to try out or build on basic sugarcraft modelling skills
Previous knowledge: none required. All activities can be differentiated so anyone can join in and achieve their best outcome
How will I Learn: through tutor demonstrations and class/ individual participation
How will I be assessed: through tutor verbal feedback and creation of the Christmas cake toppers
What shall I bring: all equipment and materials are provided – you just need to bring a box to take your creations away in.
Next Steps: More sugar craft workshops through Learning in Libraries or cake making classes at your local College
If a learner decides to withdraw from a course before a course begins, the following charges should be made: 
5 working days or more before course starts a full refund will be issued  
No refunds will normally be made if a learner withdraws from a course less than 4 working days before the start of the course
This course is aimed at Hampshire residents aged 19+ Attendance is expected at each session to ensure that you get the most out of your learning experience and to minimise disruption for other learners. Please advise the venue/tutor of any absence you may have.

Attendance is expected at each session to ensure that you get the most out of your learning experience and to minimise disruption for other learners. Please advise the venue/tutor of any absence you may have.

You will be contacted by a member of the learning in Libraries team prior to the course. We are unable to process your booking without a phone number.

Please note that due to circumstances outside of our control we may need to move this course online. Please give consent to your image appearing on our virtual learning environment Zoom.

If this event is sold out please contact learningInLibraries@hants.gov.uk so that we can inform you of any future courses.

To join our mailing list please select yes. You can unsubscribe at any time by emailing learninginlibraries@hants.gov.uk