---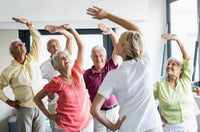 Senior Fitness for wellbeing
Aldershot Library
Saturday 13th, 20th, 27th January, 3rd, 10th, 24th February, 2nd, 9th, 16th and 23rd March 2024
10.00am to 11.00am

To perform movements to music to promote physical health and well-being both seated and standing.
Demonstrate movement memory, mobility, co-ordination, rhythm and flexibility through the performance of standing low impact dances and stretches including the hip flexor stretch, quad and hamstring stretch
Perform upper and lower body exercises with a resistance band to demonstrate strength, including lateral pull downs, upright seated row and leg press
Demonstrate an awareness of alignment and core stability when performing balance exercises, including the hip lift, calf raiser and plie
Describe the impact of exercise on wellbeing
About the Course: This session will be fun and informal to inspiring popular chart music throughout the decades. The class will start with a warm up, followed by standing low impact dance routines that can be performed seated if necessary. Seated exercises for strength and mobility will form the focus for the second half of the class. A balance exercise routine using a chair as a barre to prevent falling and aid stability will be explored each week. A cool down and stretch to improve range of movement will conclude the class. This session is suitable for both males and females and is designed to improve your co-ordination, strength, flexibility, balance and aerobic health, whilst being able to connect with others
Who is this course for:  Exercise helps promote physical health and emotional well-being. It also helps you sleep better and boosts your overall mood. This course is open to all over the age of 60 years of age and anyone younger with a health condition where lower impact movement to music may be more suitable. This is an adult learning physical activity class, learners need to ensure they are able to take part in the activities unaided
Previous Knowledge or Experience: No previous experience required
How will I learn: By learning dance routines and copying standing and seated exercises to improve strength, mobility, balance, flexibility, co-ordination and general fitness
How will I be assessed: You will be assessed by tutor observation and feedback on performance of exercises. We will evaluate your progress alongside the course and individual goals. There is no formal assessment
What shall I bring: Comfortable clothing and footwear to move in and a drink
Where next?: Further fitness courses such as Seated Exercise at Fleet Library

Attendance is expected at each session to ensure that you get the most out of your learning experience and to minimise disruption for other learners. Please advise the venue/tutor of any absence you may have.
You will be contacted by a member of the learning in Libraries team prior to the course. We are unable to process your booking without a phone number.
Please note that due to circumstances outside of our control we may need to move this course online. Please give consent to your image appearing on our virtual learning environment Zoom.
If this event is sold out please contact learningInLibraries@hants.gov.uk so that we can inform you of any future courses.
To join our mailing list please select yes. You can unsubscribe at any time by emailing learninginlibraries@hants.gov.uk