---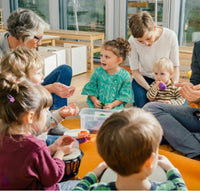 Stories, Music & Movement for Pre-schoolers
Havant Library
Thursday 11th, 18th, 25th January, 1st and 8th February 2024
10.00am to 11.15am
To have an improved knowledge on how music & movement can support all areas of your child's learning and development.
Describe three benefits of music & movement on early years development
Identify an activity which supports children to regulate their feelings and emotions
List three nursery rhymes that you might use at home with your child
Describe how interacting through stories, songs & rhymes, helps develop a healthy bond with your child
Apply your new knowledge by engaging with stories, music & movement at home
About the course: An informal, hands on, interactive course based on stories and rhymes. Each week centres around a theme or story. We will learn to 'tell' the story through music & movement and engage in related rhymes and activities designed to create special bonding time between you and your child
Who is this course for: Parents or Carers with a baby (6 months plus), toddler or pre-school aged child
Previous knowledge or experience: None
How will I learn: Through discussion and repetition of key themes to gain understanding and confidence; through hands on, active participation; and through group & 1:1 interactions with your child
How will I be assessed: Informal assessment will be carried out through observation of interactive activities, contributions during the sessions. The tutor will give you regular guidance and feedback
What shall I bring:
Your child (Maximum 2 children per adult) 
A blanket or mat to lay / sit your child on
Any changing or feeding supplies for your child
Attendance is expected at each session to ensure that you get the most out of your learning experience and to minimise disruption for other learners. Please advise the venue/tutor of any absence you may have.

You will be contacted by a member of the learning in Libraries team prior to the course. We are unable to process your booking without a phone number.
If this event is sold out please contact learningInLibraries@hants.gov.uk so that we can inform you of any future courses.
Once item is in basket you need to click Checkout in the top left corner of this page

To join our mailing list please select yes. You can unsubscribe at any time by emailing learninginlibraries@hants.gov.uk