---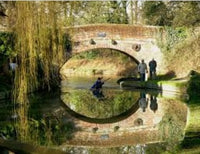 The Basingstoke Canal runs for 32 miles, from Greywell Village in Hampshire to Woodham in Surrey. Different parts of the canal hold their own surprises such as the flights of locks in Surrey, the lakes and flashes near Mytchett or the rolling fields and picturesque cottages near Odiham.
All Craft wishing to use the Canal Navigation requires a licence which is issued by the Basingstoke Canal Authority. Please note members of British Canoeing are covered to use the Basingstoke Canal but you must be able to present your membership card if asked.
Small Unpowered Boat/Paddleboard Licence
Day - £5.50
Week - £16.50
Annual - £45.50
Large Unpowered Boat Licence
Large unpowered boats which are manually propelled boats exceeding Three rowers or capable of taking 6 persons in total on board. Also all boats over 20ft (6m) in overall length.
Day - £8.00
Week - £25.50
Annual - £68.00
Full Details must be completed above and you will need to specify the date you wish the Weekly licence to start or the date of the Daily Licence. Annual Licences will also commence on the Start Date you specify below.
Refunds will not be issued if navigation is closed due to lack of water or structural repairs. Please check the BCA website for updates.
Your proof of purchase is your confirmation receipt. Please bring this on the day to be granted access.