---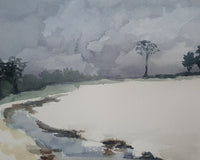 Using Watercolour – Painting the Seasons
Alton Library
Friday 12th, 19th, 26th January, 2nd and 9th February 2024
1.00pm to 3.00pm
An introduction to using watercolours to capture the beauty of landscape paintings over the seasons.
Create using watercolour to paint and express the seasons capturing both the colours and atmosphere
Apply colour and tone appropriate to reflect the seasons to all paintings using colour theory
Create at least three watercolour paintings taking account of perspective affecting hue, chroma, tone and temperature
Identify the key fundamentals to creating a work of art that will support growth in your techniques and skills
Watercolour is a beautiful medium that has a long history of use and when used correctly it can be used to create stunning paintings with atmosphere and/or impact
Who is this course for: Beginners and improvers. Individuals looking to develop their creative skills using watercolours and to gain an understanding of foundation skills, over informal fun sessions
Previous knowledge or experience: None required except lots of enthusiasm, willingness to learn and a desire to have fun. This is a varied style of painting and easily utilised with correct application and so very suitable for beginners
How will I learn: This is a relaxing and friendly course with step-by-step demonstrations.  You will be gently guided through different drawing and painting activities, starting at the basics. Each week will focus on specific elements used within art with nature as the subject. The focus is on small scale sketches rather than a big final painting
How will I be assessed: Through observation, questioning, discussion and peer/self-evaluation
What shall I bring: All materials will be provided for a materials fee of £10
Next steps: Understanding Colour and its Application in Painting at Alton Library
Attendance is expected at each session to ensure that you get the most out of your learning experience and to minimise disruption for other learners. Please advise the venue/tutor of any absence you may have.

You will be contacted by a member of the learning in Libraries team prior to the course. We are unable to process your booking without a phone number.
Please note that due to circumstances outside of our control we may need to move this course online. Please give consent to your image appearing on our virtual learning environment Zoom.
If this event is sold out please contact learningInLibraries@hants.gov.uk so that we can inform you of any future courses.
To join our mailing list please select yes. You can unsubscribe at any time by emailing learninginlibraries@hants.gov.uk