---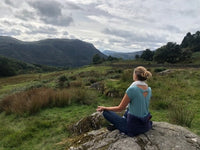 Yoga for Beginners
Petersfield Library
Monday 8th, 15th, 22nd, 29th January, 5th, 19th, 26th February, 4th, 11th and 18th March 2024
9.45am to 10.45am

Use gentle yoga and breathing exercises to increase feelings of balance and harmony in the body and mind. Using Asanas (Poses) we will build strength and stability within the body. We will also introduce a range of Pranayama (Breathing) Meditation and Relaxation techniques to reduce your stress and anxiety levels to allow the mind to relax be still and calm.
Describe the impact of Yoga on Well being
Demonstrate 3 methods of meditation practice
Perform 3 breathing exercises
Demonstrate 5 Yoga Poses
About the course: Yoga has been used for centuries to improve physical and mental health. Gentle stretches and strengthening to release tightness, improve alignment and reinvigorate underused muscles. Focusing the mind on the body and breath takes it away from worries. Regular practise of relaxation has massive health benefits as it allows the body's own healing systems to be more active
Who is this course for: For those who wish to use gentle stretches and breathing techniques to feel more relaxed and lower stress with mindful techniques
Previous knowledge or experience: No previous knowledge or experience is required. You will be required to complete a health check form prior to the course commencing
How will I learn: Tutor demonstration, verbal cues, tutor feedback
How will I be assessed: Tutor feedback, self-assessment (increased flexibility, feeling more relaxed, ability to do more complex asana etc)
What shall I bring: Yoga or exercise mat, wear suitable loose comfortable clothing. Mats are available to borrow if you don't have your own. Don't forget a bottle of water
Next steps: Further yoga, fitness and mindfulness courses with Learning in Libraries such as Yoga for Improvers
Attendance is expected at each session to ensure that you get the most out of your learning experience and to minimise disruption for other learners. Please advise the venue/tutor of any absence you may have.

You will be contacted by a member of the learning in Libraries team prior to the course. We are unable to process your booking without a phone number.

Please note that due to circumstances outside of our control we may need to move this course online. Please give consent to your image appearing on our virtual learning environment Zoom.

If this event is sold out please contact learningInLibraries@hants.gov.uk so that we can inform you of any future courses.

To join our mailing list please select yes. You can unsubscribe at any time by emailing learninginlibraries@hants.gov.uk