---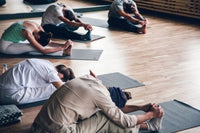 Yoga for Improvers
Petersfield Library
Monday 8th, 15th, 22nd, 29th January, 5th, 19th, 26th February, 4th, 11th and 18th March 2024
11.00am to 12.00pm
To build on your knowledge of yoga to improve your understanding of this wonderful practice. You will progress on to building a strong foundation of yoga including asanas, breathing techniques, meditation and relaxation.
Demonstrate how to hold a pose using core strength and balance
Perform a slow flow of yoga poses
Demonstrate improved stamina, balance and flexibility by continuing your yoga practice
Who is this course for: Suitable for those who are familiar with the basic yoga postures and breathing techniques and wish to deepen their understanding and knowledge of yoga
Previous knowledge or experience: If you have tried some yoga before perhaps practicing at home a little or attending a class
How will I learn: By practising pranayama (breathing techniques), yoga asanas (postures), meditation and relaxation under the guidance of a yoga teacher
How will I be assessed: The yoga teacher will observe the learner and adjust them if required
What shall I bring: A yoga mat, and a block if you have one!
Next steps: Further yoga or other fitness courses
If a learner decides to withdraw from a course before a course begins, the following charges should be made:
5 working days or more before course starts a full refund will be issued  

No refunds will normally be made if a learner withdraws from a course less than 4 working days before the start of the course
Attendance is expected at each session to ensure that you get the most out of your learning experience and to minimise disruption for other learners. Please advise the venue/tutor of any absence you may have.
You will be contacted by a member of the learning in Libraries team prior to the course. We are unable to process your booking without a phone number.
If this event is sold out please contact learningInLibraries@hants.gov.uk so that we can inform you of any future courses.
To join our mailing list please select yes. You can unsubscribe at any time by emailing learninginlibraries@hants.gov.uk