---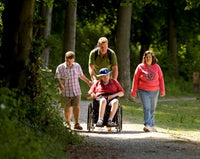 Queen Elizabeth Country Park - Annual Blue Badge Parking Pass
The Queen Elizabeth Country Park Parking Pass entitles you to unlimited car parking at Queen Elizabeth Country Park & Butser Hill for a year.
You must ensure that you complete your contact number so that we are able to contact you for any further information that may be required.
As we operate ANPR, there is no need for you to display anything in your car.
You may state when you would like the pass to start however, your pass will be valid 24 – 48 hours after receipt of the order. There will be no confirmation.
Blue Badge Membership price: £50.00
Parking passes make a great gift for friends and family. You can buy a gift annual parking pass here
T&C's
The fee for an online Blue Badge Parking Pass is £50.00
If you change any details in the lifetime of the Parking Pass, you should notify the park (qecp.enquiries@hants.gov.uk) 02392595040
Only one vehicle can park here at a time using the Parking Pass. Any second vehicle will have to pay normal car parking charges
Parking Passes are non-transferable or refundable
Badge holders will need to come into the centre the first time of using to show us their badge