---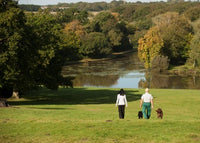 Staunton Country Park - Annual Parking Pass
Need some encouragement to get outside? Then this Parking Pass is for you. It entitles you unlimited parking at the Parklands (not Staunton Farm) for a year from when purchased.
It would make a great present too for friends and family who would like something a little different.
Your pass will be valid from the start date you specify (or next working day). There is no need for you to display anything in your car.
Price: £55.00
Parking passes make a great gift for friends and family. You can buy a gift annual parking pass here
T&Cs
If you change any details in the lifetime of the Parking Pass notify the Park (scpch@hants.gov.uk 03707797522)
Only one vehicle can park here at a time using the Parking Pass. The second vehicle will have to pay normal car parking charges
Parking Passes are not transferable or refundable
It can take up to 24 hours to process a Parking Pass
Please note blue badge holders can purchase a concessional permit for £35 here. Holders will need to come into the centre at the first time of using their permit to produce evidence of their badge.